In this surreal season of isolation and social distancing, many of us are thinking anew about the vital relationship between our professional lives and our personal wellbeing. It is in this context that enCOMPASS Agency is proud to announce our inclusion among Inc.'s Best Workplaces of 2020.
Our placement on this illustrious list highlights enCOMPASS as a workplace that's long been committed to the wellbeing of our employees; ours is a culture where people come first, and where mental, emotional, and physical health are all championed.
About Inc.'s Top Workplaces
Inc. ultimately chose to honor 395 companies, culled from a list of more than 3,000 nominees. The companies that were chosen for this list passed comprehensive employee surveys, which confirmed satisfaction and broached key topics like effectiveness of management, perks, and confidence in the future.
Ultimately, Inc. says, "the list is the result of a wide-ranging and comprehensive measurement of private American companies that have created exceptional workplaces through vibrant cultures, deep employee engagement, and stellar benefits."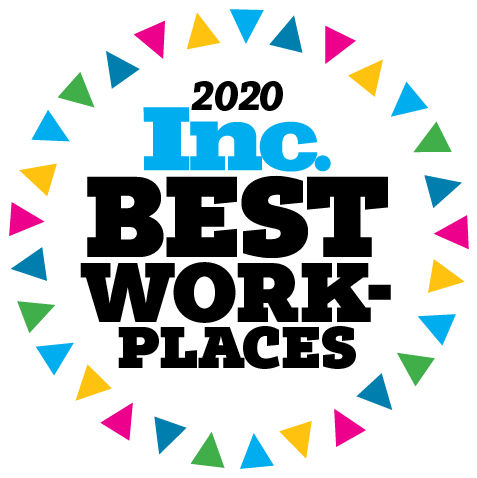 About enCOMPASS Agency
We've always been intentional in creating a company culture in which our people can thrive, which is why it's so rewarding to have our hard work recognized by an organization like Inc.
We can think of several specific reasons why enCOMPASS is a great place to work. Some of those reasons include:
We provide our team members with full medical, dental, and vision benefits.
We provide profit sharing.
We offer a retirement savings plan for our people.
Our team enjoys paid time off and holidays.
We enjoy weekly team lunches together.
We hold quarterly team-building events.
We offer paid maternity leave.
Our team members take on challenging opportunities and find plenty of chances to grow.
We have free snacks!
More than anything else, we're proud of our mission statement (Great Work That Makes a Difference), and what it says about enCOMPASS… namely, that we are passionate about what we do, and love being able to improve the lives of our clients.
And of course, we have a strong team that knows how to inject some fun into the workday. These are all important parts of what makes our workplace special. Big thanks to Inc., and to our incredible team, for this high honor.
SHARE THIS ARTICLE: