Google dominates the consumer search experience. That's hardly new information, of course, yet it's an important scene-setter for this discussion of Google My Business. When seeking information about a particular product, service, brand, or local company, the average person is going to use Google as their primary tool for data collection. It's obviously important that your local business have a strong presence.
That requires you to have more than just a good, optimized website. It also means having a Google My Business listing.
The Benefits of Google My Business
The reason for this is simple: Google My Business allows you to compile some of the most basic information about your business—hours of operations, phone number, physical address, website URL, and so forth—and ensure that it's displayed consistently across the Google platform. This means the SERPs, but also Google+, Google Maps, and beyond.
Indeed, the benefits of Google My Business are numerous. With this easy-to-use-tool, your business can:
- Control and index relevant business information, ensuring it's accessible and consistent throughout the consumer search journey.
- Engage with local and potential customers, including managing and responding to reviews.
- Curate photos, videos, and other content that's generated by your customers.
- Listen to what people are saying about your business, and take their feedback to heart.
A couple of additional notes: Google My Business is how your company gets an information box on the first page of the SERPs, which is especially helpful for mobile users digging for information about what you do, when you're open, etc. Additionally, Google My Business is an important SEO ranking factor—so there's no sense in leaving your business page unclaimed!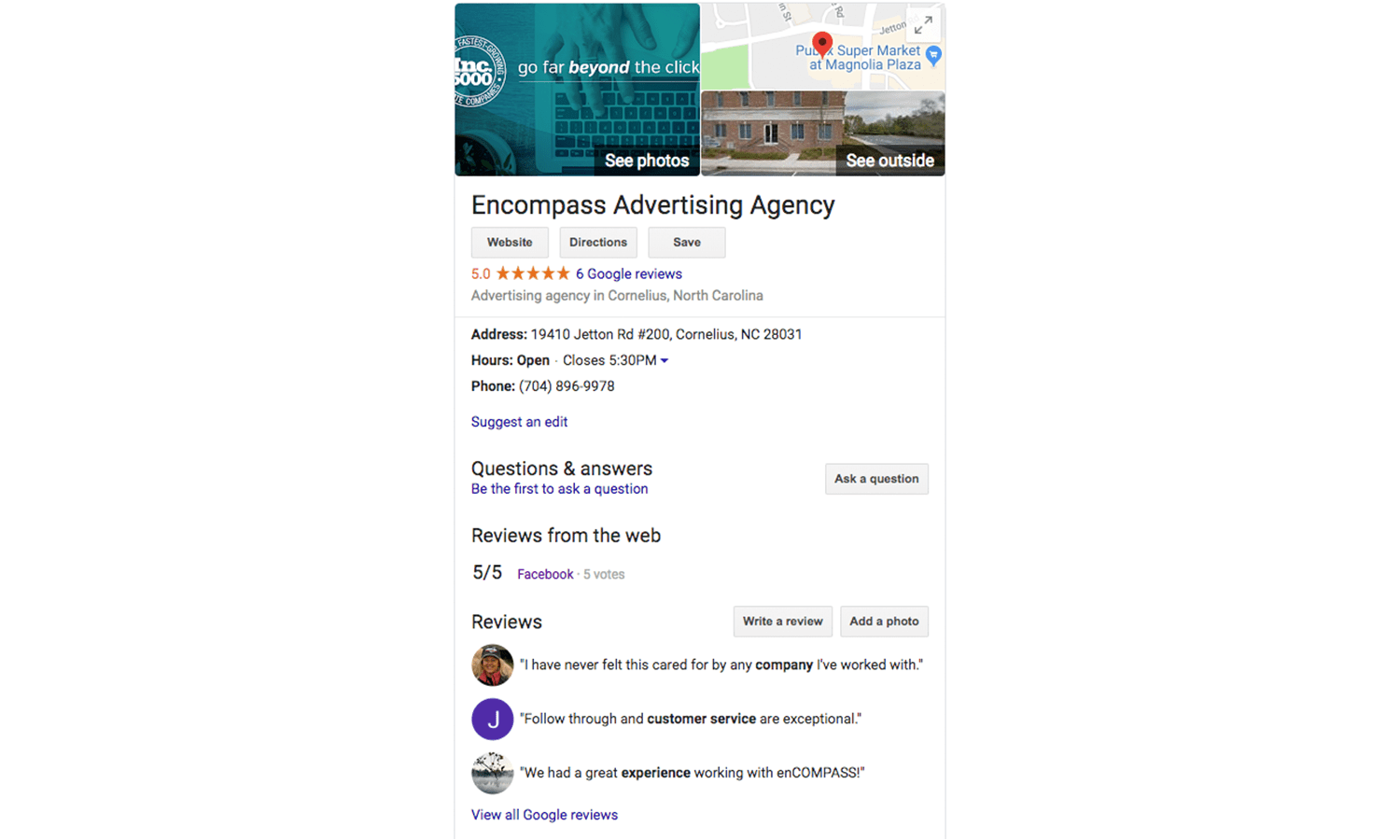 Using Google My Business to Increase Sales
With all of that said, it's not enough to simply sign up for a Google My Business account and then forget about it. You also need to make sure you're leveraging your account effectively.
Start with Up-to-Date Information
The starting point is just to make sure your Google My Business page is accurate and comprehensive in the information it provides. This includes information such as:
- Business name, address, and phone number
- Website
- Business description, category, and attributes
Remember that this information is going to be displayed throughout the Google network, so it's important to always make it as thorough and as descriptive as possible. Also, keep it up to date; if you change your hours of operation, for example, make sure your Google My Business page reflects that.
Manage Reviews
Reviews are critically important to local SEO success; in fact, recent studies confirm a strong correlation between positive reviews and rankings.
Simple strategy here: Ask your customers for reviews, and respond when they provide them. We recommend including a link to your Google reviews on invoices and receipts, in marketing emails, and on your website. Also consider directly emailing your best customers and asking them for their feedback.
Share Key Information with Posts
Google Posts were opened to all businesses in 2017—and they remain one of the best-kept secrets of digital marketing.
Posts allow you to share information directly to Google search users. This information might be about a new product or service, a new location opening, expanded holiday hours, a special promotion, or anything else.
Google Posts allow you to include text, photos, and even call-to-action buttons. And you can start posting as soon as your Google My Business account is verified.
Some things to keep in mind as you create Google Posts:
- Google will let you have up to 300 words per post. If you use a CTA button, only the first 60-70 words of your post will actually show up on mobile and desktop displays. Without the CTA button, your entire 300 words will be shown.
- Image selection is critical. Always ensure high-quality images to represent your business.
- Remember that the whole point of the post is to communicate directly with your customers—so be straightforward, focus on value, and avoid industry jargon.
- Google Posts disappear after a week. (You can set the timeframe shorter if you like, but not longer.) They are designed not to share evergreen content, but rather to provide timely and hyper-specific information about what's going on at your company.
Once you share a post, it will be visible to anyone who uses Google to search for information about your business—and Google Posts routinely help businesses increase traffic and ultimately increase sales.
Get Started with Google My Business
Google My Business is free, it's easy, it's valuable—and it's something that can make a big difference in your digital marketing. We're happy to talk more with you about the benefits of this great tool. Reach out to the enCOMPASS team any time you want to chat about the latest and greatest online marketing solutions.
SHARE THIS ARTICLE: