Why Email Marketing?
While other digital marketing strategies have developed or evolved over the years, you may be asking yourself, "Is email marketing still important?"
Ask that question to anyone here at enCOMPASS, and you'll hear, "Absolutely!"
Let's break it down with a few statistics:
In 2017, global e-mail users amounted to 3.7 billion users. This figure is set to grow to 4.1 billion users in 2021. (Statista)
Email has a median Return on Investment (ROI) of 122% – over 4x higher than other marketing formats including social media, direct mail, and online display. (DMA and Demand Metric)
In 2017, 61% of consumers indicated that they prefer to receive offers via email, which is a 24 percent increase over 2016. (Adobe Blog)
While the stats prove email should not be ignored, it doesn't come without challenges.
The Challenges
Website HTML has progressed significantly over the years. You've likely noticed some of these upgrades: responsive layouts that adapt to the size of the browser window or device, improved hover effects and animations, new and interesting font styles, and more. And the best part – there's good compatibility between browsers, so what you see on one browser will be nearly the same if not identical to another browser (assuming you've updated your browser recently).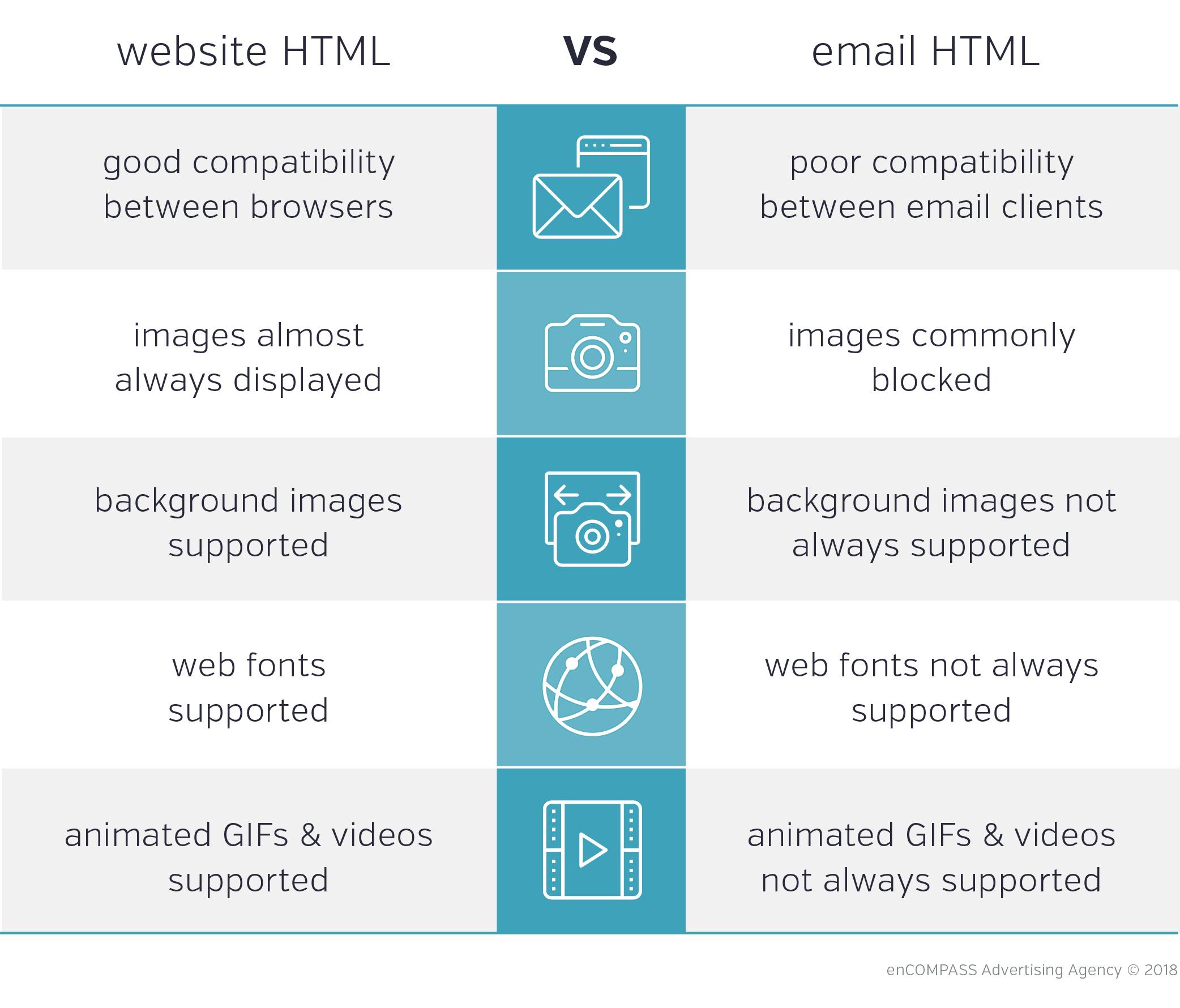 In comparison, email HTML has progressed at a much slower rate and compatibility is poor between email clients. Features that we now consider to be basic for a website, like background images and videos, are not always supported in email. Plus, an email with too many images or the wrong kind of content may be flagged as spam, which can damage your email deliverability and sending reputation. For these reasons and more, email development can be tricky…
Making the Most of It
With the right plan and process, creating a successful email is within reach. At enCOMPASS, our email development process can be summed up in three critical tasks:
Create fallbacks
Test, test, test
Stay up-to-date
But email development is just a piece of the puzzle. As a designer, we also focus on a design that has proper information hierarchy, adheres to the brand, and speaks to the audience. We verify that the information is accurate and free of typos, we create unique email subject lines and preheaders, and we add additional creative elements where appropriate (e.g. GIFs).
Of course, there's plenty of work done before and after our part as designers by our supporting teams here at enCOMPASS. By working together, creating a plan, and following our processes, we're turning email challenges into email successes.
What's Next?
In late 2017, Litmus polled nearly 600 marketers and asked about expected email trends for 2018. Interactive emails came in first (44.1%), despite limited support with email clients, and was followed closely by more personalization (39.5%).
Then in February, Google announced that it will be bringing the power of Accelerated Mobile Pages (AMP) to email, allowing for more creative, interactive, and dynamic email experiences. The possibilities of "AMP for Email" are exciting, but it will require marketers to create a unique email entirely for Gmail.
__
While email development can be tricky, and support varies between email clients, there's no doubt here that it's still an important digital strategy. Email marketing can be a powerful tool for building brand loyalty, disseminating content, and driving traffic to your company website or blog. Of course, you can also use your email list to directly boost conversions.
Want to learn more about email marketing for your business? Contact us today, and we'll talk about a strategy that's right for you.
---
lauren chambers
DIGITAL DESIGNER
SHARE THIS ARTICLE: