Like many other facets of the digital industry, Advanced TV has many different definitions and delineators. At its roots, it is any video that is not airing on a traditional TV via linear programming delivery methods. Here is the IAB's (Interactive Advertising Bureau) Official Definition:
• Any television content that has evolved beyond traditional, linear television delivery models. This umbrella term is inclusive of interactive TV. Connected TV, Smart TV, linear addressable and VOD addressable. – iab.
ADVANCED TV FAST FACTS
What types of advertisers are best suited for advanced TV?
• Any advertiser can run an advanced TV campaign! All you need is video creative.
What kind of campaign goal is best for advanced TV?
• Brand awareness metrics like completion rate and reach, are the best fit for advanced TV.
What considerations should I think about before including advanced TV in my strategy?
• The advanced TV landscape is new and still growing, so we suggest keeping your geo larger and not applying niche audience targeting since these factors can limit scale.
Why is it important?
• Consumers continue to diversify in their video consumption patterns. Take a look at your video habits – you probably watch video content on your smartphone, tablet, Roku, Hulu and even TV Everywhere Apps (HBO Go, for instance). And if advertisers want to stay in-touch with their audience, they need to be aware of this growing medium.
• While Millennials lead at 86% of their ranks watching video content via Advanced TV, almost 50% of people 50+ do as well. They do this because on-demand, less commercial viewing fits into their busy lifestyles.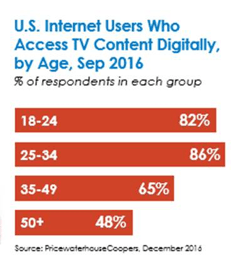 What Video Options are Considered Advanced TV?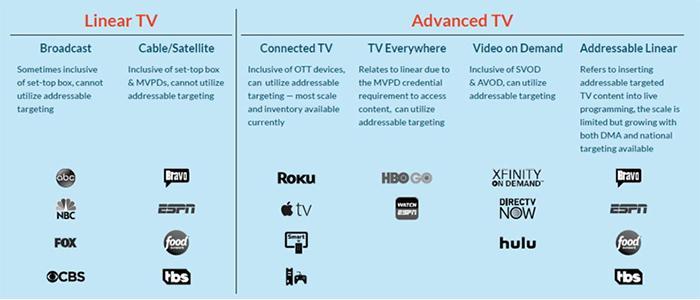 Stay Tuned!
• While Advanced TV is certainly growing, there are scale issues. Currently this is primarily being used to augment national or regional campaigns and to target broad audiences. As with any emerging technology, there is no targeting standardization across the Advanced TV options.
• For enCOMPASS Agency clients, we will continue to monitor scale, and when this hits critical mass in your area, we will be sure to reach out to continue the discussion on how Advanced TV can augment your media campaign. Until then, watch your favorite content via whatever distribution platform you prefer!
SHARE THIS ARTICLE: