The Challenge:
Retail automotive is one of the most competitive verticals in which one can compete. Lake Norman Chrysler Dodge Jeep Ram needed to lead not only the market but the region in their marketing strategies in order to achieve the necessary results to make them one of the largest dealerships in the country.
enCOMPASS Agency has been a leader in automotive digital marketing for car dealers since 2006. Our success in auto is unprecedented and Lake Norman CDJR is an example of how to achieve amazing results by working as true marketing partners for over a decade.
Staying Ahead of the Competition
There is only one way for an auto dealer to continuously increase sales in the market year after year and that is to stay ahead of your competition. Lake Norman CDJR chose our team at enCOMPASS Agency to help accomplish this feat. Through superior service, unmatched digital marketing know-how, and working hand-in-hand with this exceptional dealer team, enCOMPASS has been able to play a vital role in achieving this dealer's goals and vision.
In fact, Lake Norman CDJR is one of the best-performing dealerships of its kind in the USA. While operating under the ownership of Jack Salzman and Robin Smith for nearly 20 years, Lake Norman CDJR has achieved the following:
#1 in new vehicle volume in the Carolinas for 88 months in a row
Top 10 in the USA in new vehicle volume for several years
Consistently in the top 10 in the USA in certified pre-owned vehicle (CPOV) sales
Sold 70,000+ vehicles and serviced over one million customers
In 2018, owner Jack Salzman received the award for TIME Dealer of the Year
In 2021, Charlotte Business Journal presented owners Jack Salzman and Robin Smith with the award for Most Admired CEOs for a Family-Owned Business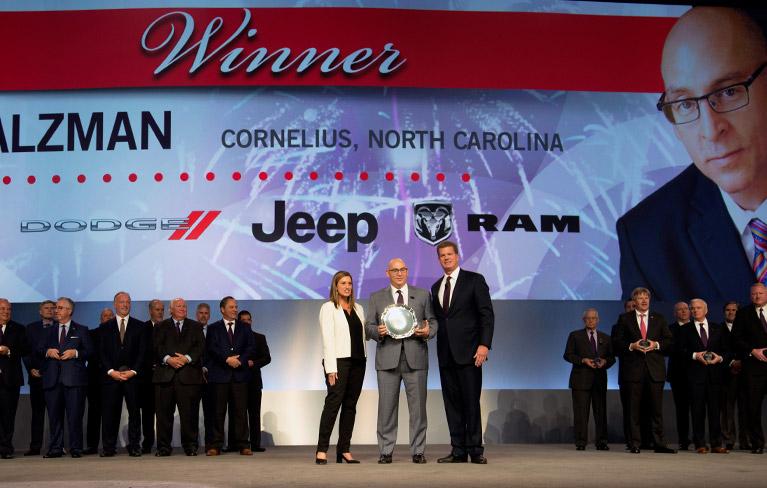 An Unprecedented Sale
As a result of Lake Norman CDJR's stellar record, interest in their success grew. In January 2023, Jack and Robin sold Lake Norman CDJR to Parks Automotive Group, who owns 13 dealerships in North Carolina, South Carolina, and Virginia. The sale of Lake Norman CDJR is believed to set a record for the highest-value deal of any CDJR franchise.
enCOMPASS is incredibly grateful to have had a part in Lake Norman CDJR's success. Are you ready to ramp up your sales? Reach out to us today to get started.